SeriousSports Home | Air Sports | NorthEast


Connecticut Parachutists, Inc.
Rt. 83 Ellington Airport
PO Box 107
Ellington, CT 06029
Phone: (860) 871-0021
Fax: (860) 871-0021
Send Message
---
---
At Connecticut Parachutists, Inc. (CPI), making a sport parachute jump is easier than ever before. Our staff of experienced instructors and our use of the most advanced equipment will make your first jump one of your most enjoyable and memorable experiences. All you need to do is show up at our drop zone on Saturday or Sunday by 8:30AM. Wear comfortable clothes, sneakers, and plan to spend the entire day with us. We jump until sunset.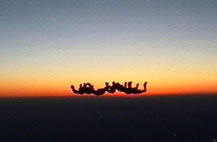 CPI offers the Tandem method and Conventional program of instruction for first timers. This is an introductory lesson to the thrilling world of skydiving. You will be given ground instruction to prepare you for your experience of a lifetime.

FIRST JUMP COURSE begins promptly at 9:00AM every Saturday and Sunday from April 1 through October 31.

IMPORTANT- To make a jump at CPI you must be at least 18 years of age and be in good physical health. Persons weighing over 200 lbs. may participate at the discretion of the instructor.

All of our instructors are certified by the United States Parachute Association, the organization that sets the safety standards for sport skydiving.
---
CPI offers two courses for those who wish to continue in the sport of skydiving, the "Conventional Training Program" (IAD) and the "Accelerated Freefall Program" (AFF).

Each course places a great deal of emphasis on safety and is designed to build confidence in yourself and the equipment skydivers use. Upon graduation from these programs, you will be permitted to jump with experienced skydivers, join in freefall formations, and MUCH MORE!
TANDEM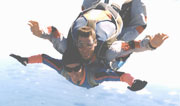 You will be flown to a minimum exit altitude of over one mile high (additional altitude for more freefall is available, weather and aircraft permitting). Securely attached to your instructor, you will experience the thrill of freefall. After the canopy is opened you will learn to fly our parachute built for two and enjoy a safe landing back on earth.
CONVENTIONAL TRAINING PROGRAM (IAD)
In the Conventional Program, you will exit the aircraft from 4,000 to 8,000 feet. On your first several jumps, your jumpmaster will deploy your parachute as you leave the airplane. This program begins with three to five hours of ground instruction prior to your first jump. For each subsequent jump, you will be required to attend a preparatory ground training session. As you proceed in this program, you will move on to freefalls of up to thirty seconds! You will not only learn about freefall stability, but you will also learn basic maneuvers such as 360 degree turns and backloops.
ACCELERATED FREEFALL PROGRAM (AFF)
AFF is an advanced training program consisting of seven levels of instruction. All of your skydives will be made from 11,000 feet. You will therefore experience forty-five seconds of freefall for each AFF jump! The AFF program begins with seven to eight hours of ground instruction. All succeeding levels require a preparatory ground training session. In this program, you will be taught freefall stability and several different maneuvers including 360 turns, backloops, frontloops, and forward movement.

This course is available by appointment only. Please note that CPI does require you to make one Conventional skydive prior to enrollment in the AFF program.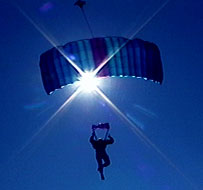 Whether you plan to make a jump or just want to see what skydiving is all about, come out to see us. CPI operates its drop zone every weekend and most holidays, weather permitting. You're welcome to visit, take pictures, ask questions, and watch experienced and student jump activity.
---
TANDEM SKYDIVES - $195
Video Is Available - $55
Video with 35mm Stills - $80
Cash or Check on Video (sorry, no credit cards)

CONVENTIONAL PROGRAM
- First Jump (From 4,000 ft) and ground instruction
(includes USPA 45-day membership) - $195
- Second Jump (includes USPA 1-yr. membership) - $115
- Additional Jumps (From 4,000 to 8,000 ft) - $75 each

ACCELERATED FREEFALL PROGRAM (all from 11,000 ft.)
- Level I (includes USPA 1-yr. membership) - $275
- Transition from Conventional, Level I - $250
- Levels II and III - $175 each
- Levels IV-VII - $150 each

Cash and Credit Cards only. Checks will not be accepted.

NOTE:
All prices cover ground instruction, the use of skydiving equipment, and the skydive itself.
The price of the first jump course for both the Conventional and AFF programs also includes a 45-day membership in the United States Parachute Association.
All students use ram air parachutes for soft, controlled landings.
Each student receives ground-to-air radio instruction.
---

Connecticut Parachutists, Inc. is located on the west side of Ellington Airport on Route 83 in Ellington, CT.

FROM 1-84 WEST
Use Exit 66. Take a right at the end of ramp.*

FROM 1-84 EAST
Use Exit 66. Take a left at the end of ramp.*

*CONTINUED FOR I-84 EAST AND WEST
Take a left at stop sign (Bolton Road). Take a right at the light. Take your first left at Vernon Police (West Street), stay on this road. It changed to Route 83 North. You'll enter Ellington. Follow Route 83 for about 4 miles.**

FROM 1-91 SOUTH
Use Exit 45 in Warehouse Point and follow Route 140 East for about 10 miles through the center of Ellington. Turn left onto Route 83 North.**

**CONTINUED FOR ALL
After the intersection of Route 83 and Route 140, follow Route 83 for approximately 1-1/4 miles. You'll pass Ellington Airport and Country Candle on your left. Just before the road bends, turn left onto unmarked dirt road. Follow this around to the far side of the runway to the DZ parking area.
---
For more information send a message to Connecticut Parachutists, Inc..
---
More Outdoor Companies: SeriousSports Home | Air Sports | NorthEast
---
Page last updated: March 3, 1999.
Copyright © 2013Serious Sports Mktg. All rights reserved.