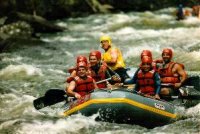 Downeast Rafting has one prime purpose and that is to provide you, our customer, with a safe, fun, exciting Maine adventure. We want all aspects of your trip from the rafting to your meals and room to be comfortable and enjoyable.
Please join us for a truly unique escape - Maine's big Whitewater Wilderness Country - it's truly impressive.

The Kennebec River
New England's Most Spectacular River Gorge - Class IV-V
The Kennebec Gorge in The Forks, Maine, is one of the most popular raft runs in the country. It combines beautiful wilderness setting with big water action in a cavernous gorge. Just 200 yards below the put-in, the river accelerates. The raft hurtles through the Rock Garden, Big Mama and Alleyway rapids, lurching over 7-8 foot waves, followed by Magic Falls, a world class drop. Below the lunch site, the river mellows to lighter rapids, enabling us to relax, swim and play.
Cost: Sats. (July-Aug.) $99, Other Sats. $95, Suns. - $90, Weekdays - $76 per person

The Penobscot River
Maine's Biggest Whitewater - Class V
The Penobscot River is definitely the most challenging trip offered by Downeast whitewater. This river is located in the heart of the big Maine Woods, just outside Baxter State Park and the lumber town of Millinocket. Spectacular scenery, abundant wildlife and world-renowned class V rapids make a trip on the Pemobscot a rare and inspiring experience. Come stay in the Maine Woods with Downeast and enjoy this truly majestic river.
Cost: Sats. (July-Aug.) $99, Other Sats. $95, Suns. - $90, Weekdays - $76 per person

The Dead River
Sixteen Miles of Continuous Whitewater - Class IV
The Dead River is Downeast's longest river rafting trip, with sixteen miles of Class III and IV whitewater. Rafted during the peak Spring runoff and on special Fall release dates. High water releases of 7,000 cfs on the first two Saturdays in May always sell out, so plan ahead. Other high water releases of 5,500 cfs are held in May, September and October.
Cost: $97 per person

Inflatable Kayak Trips on the Dead River
For those who would like to be more involved, inflatable kayak whitewater trips are becoming one of our favorite adventures.
Cost: $65 per person

New Hampshire Rafting
Swift, Rapid, Magalloway Rivers
Downeast has trips available from Conway, NH on the Swift River in the Spring runoff season. Water level fluctuates greatly on this trip since it relies on Mother Nature and not dam releases, but, when the Swift is high, it is the steepest and most difficult trip Downeast runs.

During the latter part of July and the first part of August, Downeast also runs rafting trips out of Errol, New Hampshire on the Rapid and Magalloway Rivers. Call for more details.